Crowd Simulation, Layout & Previz tools for Maya
Digital Extras At Your Fingertips
Golaem makes it easy and affordable to populate worlds with directable digital characters, from a few to thousands. Artists from all over the globe use Golaem to bring life to commercials, episodic productions, feature films and games.
Golaem Layout
from 130€/month Golaem
from 650€/month Evaluate
30 days
Give Life to All Your Projects
Golaem is your tool of choice to quickly populate 3D scenes.
Humans, horses, birds or extraordinary creatures, Golaem can animate anything.
And remember: Two's company, three's a crowd!
View USAGES
Ambient Population
Populate city streets with directable digital extras
Animation
Quickly layout scenes Create a more lively universe
Stadium
Get tens of thousands of supporters cheering for
you in minutes
Creatures
Animate aliens, spiders, insects, birds, fishes
or even bikes!
Battle
Create epic battles including swords,
horses, explosions...
Objects
Quickly place and animate bikes, tents, trees...
Golaem - Population Tool for Maya
Golaem gives you the power to quickly populate your scenes with smart and directable digital characters.
Avoid repetitive animation tasks
Generate more variety for more realistic shots
Populate backgrounds and midgrounds in minutes, not weeks
More about Golaem
Golaem Layout - For Previz & LAYOUT
Golaem Layout gives you total control over characters.
Manipulate or duplicate characters
Change their appearance
Retake or offset animation
Get a shot from good to perfect and validated
Create entire shots from a single character
More about Golaem Layout
Ready-To-Use Assets or Custom Assets
Start populating shots today.
Take advantage of the Golaem Assets, a set of free characters and motions for all your projects
Use your own assets, humans, horses, creatures or even objects.
More about Golaem Assets
More about Animation
Customers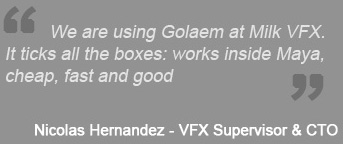 Hire
an artist
Post an offer - Find profiles
Golaem Jobs
Need More Information
Get advices about your shots
Contact Us
Populate your first scene in 15min
Free 30 days evaluation
Try Golaem