Alter Ego hops on and leads the peloton with Golaem Crowd
Alter Ego, Director Mark Zibert and Innocean Worldwide Canada have completed a commercial for Cycling Canada. "Bicycles" features real and CG bikes on mountain roads and other venues across Canada.
The epic commercial illustrates cycling sports in various environments with a dark, dirty and gritty look. The catch of the spot is that in all the scenes the bikes are missing the riders which in turn should inspire the viewers to hop on their bikes. Avid cyclists within the agency's, the client's and Alter Ego's staff provided their detailed knowledge on cycling, bicycles and riding techniques to make the spot look as real as possible.
Every shot had two takes, a hero reference pass with bike & rider and a close match without them. The editor kept two synchronized edits going, developing the feel with the bike/rider shots and using the biker-less edit to guarantee clean shots for CG.  At the end, half of the shots (25) where slated for CG, a third for paint and a few hybrids of cg/paint outs.  Whenever possible the bikes were shot without rider, using props to facilitate the paint out job, but it was seldom the case.
The spot ends with a few peloton shots with +100 bikes which triggered the need for a crowd solution in order to easily iterate on the animation and handle the rendering. It is a rather unusual usage for crowd systems, which are more accustomed to simulate humans than the things they are riding. However, Gareth Stevenson, an experienced Golaem Crowd user, had built together with the Golaem team a bicycle rig enabling to get wheel traction and ground contact. (Gareth used the rig in a yet unreleased feature film and presented the setup in his course on
fxphd
)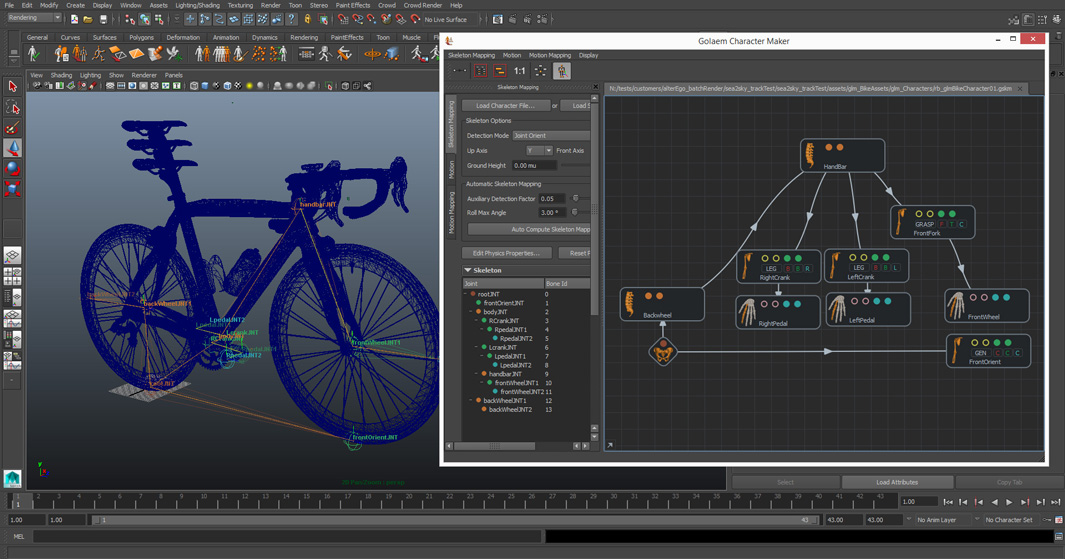 Sebastian Bilbao, who recently joined Alter Ego to lead the CG department's growth explains "Golaem Crowd was offering a plug-and-play bicycle solution, fully integrated into Maya and V-Ray; not only that but the fact that their demo team was in town and available to meet with: we were sold. Golaem's support team and Gareth helped us through the fast learning curve, putting us up to speed and helping us derive template scenes for our crowd shots."
Eileen Peng, CG artist in charge of the crowd shots continues: "Along with classic crowd functionality and asset diversification, Golaem provided us with flawless wheel traction and wheel ground contact. We explored several methods to obtain the most reliable motion library possible; from object tracking to motion capture solutions and traditional keyframing. We ended up using mostly keyframed motions because the "real" motions had nuances that looked unrealistic without the rider, go figure.  Once we had the Golaem templates integrated with our tracked layout and camera scenes, we could cruise through the shots iterating countless versions without any problems nor glitches."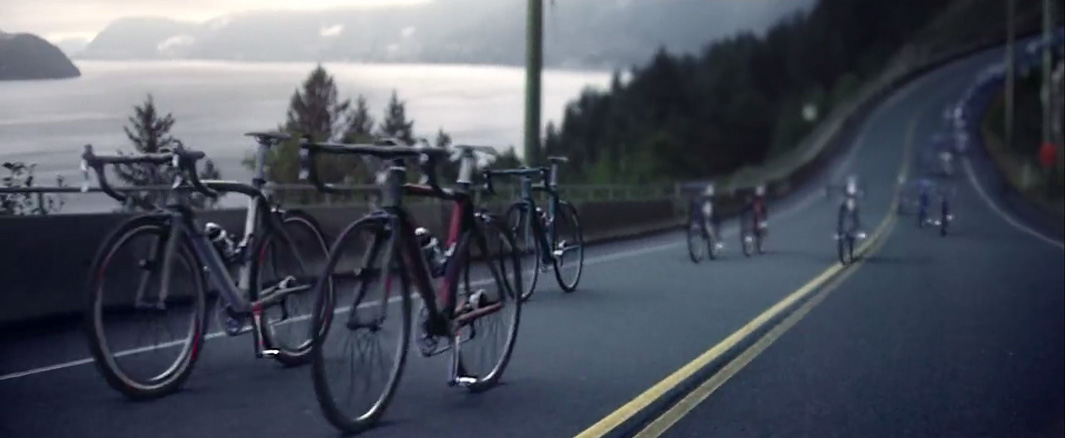 Shots were rendered with Chaos Group V-Ray, using V-Ray RT to refine the light rigs, and getting fast renders on the farm: ~5min at 3-4K with +100 bikes with motion blur.
The workflow was smooth enough that Alter Ego's team ended up using Golaem Crowd for a mini-crowd in one of the underpass-tunnel shots which had enough bikes to take advantage of the iteration speed Golaem Crowd provides. All in all, the four crowd shots in the spot were in production for about four weeks, about a week each, scattered through a two month period.
Sebastian relates on his previous experience in many famous studios: "Crowds are now fun and easy.  Having used older crowd systems, Golaem Crowd proved to be much more user friendly without the steep learning curve. We are now pitching non-peded living forms: snakes and worms!"
Andres Kirejew, VFX Supervisor, concludes "Both the client and agency aimed for an epic spot and gave us lots of creative freedom to meet this challenge.  It was a super fun project to work on. We are very proud of all the shots, even if the aerial long shot with a large peloton going up mountain curves stands out the best. We are glad that the slick workflow prevented us from losing any sleep on this project!"
Learn more:
Meet us at FMX next week!
About Alter Ego
Alter Ego is a Toronto based leading color grading studio with a growing vfx department. In total 5 color suites, 4 VFX suites, shooting studio and a CG department; most Canadian commercials get something done through Alter Ego.