Atomic Fiction creates epic crowds for Game Of Thrones Season 5
We are thrilled to announce that Atomic Fiction used Golaem Crowd for Game of Thrones, one of our favorite show. They delivered impressive shots giving life to the Dothraki Horde, the Stannis Army and the Bolton Cavalry.
Atomic Fiction
 delivered 217 shots, spread out over 7 episodes. On top of amazing crowds, they also created several Environment Extensions, Matte Paintings, CG Snowfall and a Horse on Fire!! Rudy Grossman, CG Supervisor at Atomic Fiction says "We are huge fans of Game of Thrones, so we were thrilled to have the opportunity to be a part of it.  It's an amazing feeling when we put our heart into something and can later step back and feel really proud of what was achieved". Among these shots, 11 were crowd shots, done with Golaem Crowd: "This was our first project using Golaem, and we definitely put it through the trial by fire!  It now has a proven track record with us, and is a solid part of our growing arsenal for tackling complex visual effects."
The Atomic Fiction team started building the assets about 5 months before delivering final shots. The entire crowd team consisted of 4 crowd tds running the Golaem simulations, 2 animators creating a library of animation cycles for the various agents, 1 character rigger, 1 character modeler, 2 lookdev/texture artists, 2 lighters, 2 compositors, 1 fx td, 1 cfx TD, 1 pipeline TD.
 
Dothraki Horde
Most of Atomic Fiction's crowd work was for the season finale, episode 10. Daenerys is engulfed by a swirling horde of 4,000 CG Dothraki on horseback, created with Golaem Crowd.
These shots involving complex choreography of full screen quadrupeds were done by Hirofumi Kasagi who had the most experience using Golaem Crowd. Hirofumi also supported the other three crowd tds (Lalida Karnjanasirirat, Saurabh Maurya, and Carl Kaphan) by helping them learn the software on the spot and setting up their shots.
Stannis Vs Bolton Armies
Also in the season finale, Stannis' army is greatly outnumbered by Bolton's cavalry during a siege on Winterfell.  Golaem Crowd was used to create the wave of Bolton cavalry emerging from behind the ridge line, as well as the wide shots depicting the battle between the two armies. These shots had 3,000 Bolton Calvary mowing down 1,500 Stannis foot Soldiers.
The result is one of the best looking battle choreography done with Golaem Crowd. Rudy Grossman explains "Overall VFX Supervisor Joe Bauer and VFX Producer Steve Kullback were instrumental in giving us amazing guidance and a lot of trust in figuring this important sequence out. Joe worked with us very early on, through screen-sharing "camera blocking" sessions, where he helped us find interesting angles for shots. Joe, along with Atomic Fiction's VFX Supervisor Ryan Tudhope, really wanted us to research battle formations and come up with interesting variety and movement to the battle. One of our rock star animators Julie Jaros, and myself, had the opportunity to plan and block out the battle sequence in this regard. We ended up devising an attack formation utilizing heavy and light cavalry offensive maneuvers, which was both historically accurate and looked really cool."
Hero Quality On Crowds Characters
When asked about the most valuable points in Golaem Crowd for this show, Rudy Grossman first notes that it does not get in the way of artists and let them use their normal pipeline for building assets: "It was super important for us to apply the same standards we have for hero digital characters to our crowd characters. Not only were we able to integrate Golaem into our hero character pipeline, it also allowed us to keep our best artists doing what they do best. This can't happen when the crowd software is a black box. During the asset build phase we were able to model, texture, lookdev, and animate our characters the same way we would if we weren't using a crowd system.  Then using Golaem Crowd, those same characters could be driven by the thousands!"
Another very important aspect Rudy notes is that Golaem provides the ability to layer animation: "By layering in subtle animation variations we could quickly add a complexity of unique and individual motion within the crowd."
Rudy Grossman concludes "Golaem Crowd was essential for achieving the quality results demanded when delivering final shots to a high profile show like Game of Thrones.". He adds "Also we really appreciated the responsive and helpful support team at Golaem, they made a huge difference in helping us hit the ground running!".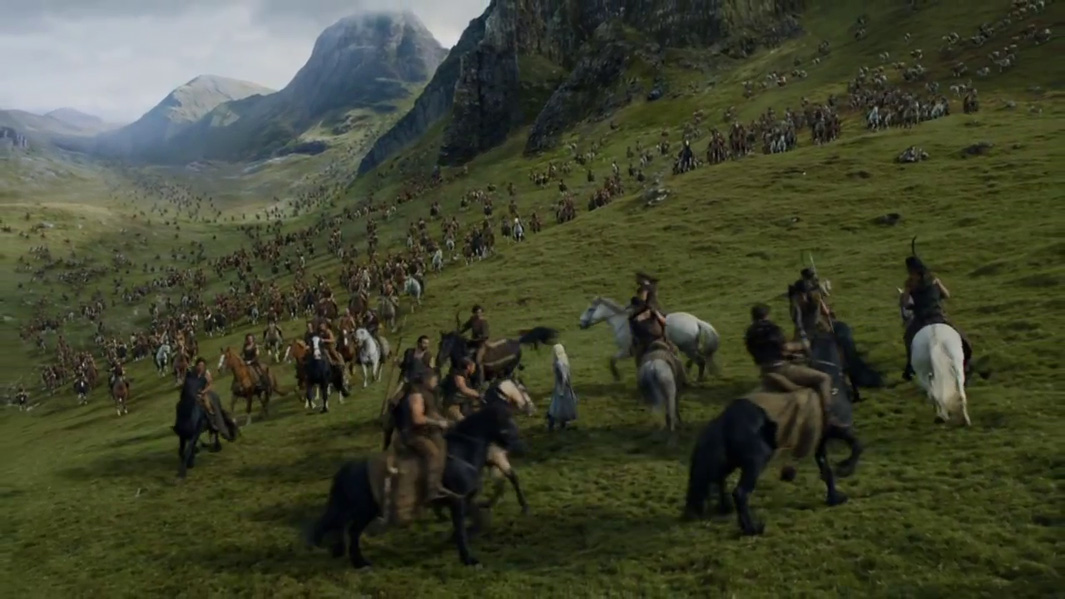 Cloud Based Rendering
All shots were rendered with V-Ray on
Conductor
, Atomic Fiction's cloud based rendering platform. To Rudy Grossman, this coupled to Golaem Crowd's procedural rendering plugin was key to handle the multiple changes being requested on the shots: "We were throwing these 100+ frame shots at the render farm with thousands of cavalry, soldiers, Dothraki and getting the entirely rendered shots back dramatically faster. We could quickly scale up and reduce our wait time for the entire shot to just the wait time of our longest frame."
Atomic Fiction is currently working on a film that should be released in mid-November.  Rudy says "As soon as I saw the script, I knew this would be another project that would benefit from the power and efficiency of Golaem Crowd's ability to layer animation over complex crowds while still fitting into our hero lookdev and lighting workflow."
Learn more:
About Atomic Fiction
Atomic Fiction
is an award winning visual effects studio making waves by combining talent and technology in a truly unique way. The company has embraced cloud computing, is small in size but benefits from a scalable 'big shop' infrastructure, and employs an exceptional team who wield a generalist approach to get the job done. The studio recently completed work on two Oscar-nominated films, Star Trek Into Darkness and The Lone Ranger. The company's Emmy-nominated work can been seen in Cosmos: A Spacetime Odyssey, as well as Flight, Looper and the upcoming release The Walk. 
Atomic Fiction was founded in 2010. The company is headquartered in Oakland, California, and has offices in Los Angeles and Montreal.