Cowabunga! Mikros populates TMNT : Mutant Mayhem with Golaem crowds!
Benjamin Dupin, Crowd Supervisor at Mikros Animation Paris tell us about how he and his team developped a powerful pipeline around Golaem for the acclaimed TMNT: Mutant Mayhem movie. He goes into details about how they were able to fit with the unique graphic style, and insuflate life to New York city.
Can you present yourself and the studio?
My name is Benjamin Dupin, I am currently the Crowd supervisor at Mikros Animation Paris. I had the chance to work on different productions for Mikros Animation such as TMNT Mutant Mayhem, Tiger Apprentices, Thelma the Unicorn, etc... Mikros Animation is a global CGI animation creative studio. We provide filmmakers with top-tier animation and CGI services through a complete range of front and back-end creative services to bring unforgettable and stylized stories to life in every format, for every platform.
What was the size of your team and how long have you worked on this project?
On this project we were 6 with Gaetan Luzy acting as Lead Crowd, Vincent Rigaud, Wendy Duez, Valentine Arles and Dyane Guerin as Crowd artist. I would like to add that our team was under the guidance of our department coordinator Emmanuelle Trillot. 
We officially started at the beginning of September of 2022 for a wrap in the end of May 2023. I was the first to be onboarded on the project at the beginning of January 2022 and started working closely with the CG Supervisor Brian Gossart on some R&D. Gaetan and Vincent started in September to help me with the creation of our crowd assets. Followed Wendy by the end of the year 2022 to finally complete the team with Valentine in January 2023 and Dyane at the end of February 2023.
How did you assemble and train your team? How long before a new hire was productive on the project?
The team was made of different profiles with various backgrounds and experience.
We had the chance to already have Gaetan and Vincent who worked on our previous production (Tiger's Apprentice). It was a big plus for the department because we were able to leverage on their past experience in Mikros Animation.
Wendy who just finished an internship at Golaem was highly recommended. She was already autonomous as she was ready to tackle shots without spending time on training.
Valentine had already used Golaem in her past experience during her time at MPC Paris. Even if it was a VFX experience with Golaem it still was beneficial and she was ready to work at shot level.
Dyane was wrapping Tiger's apprentice in a different department (Technical/fix Animation) when I heard she was interested to join our department. She already had followed Golaem Academy training which means she knew the basics of Golaem. In the end, it took longer for them to adjust to the Mikros pipeline than to learn Golaem which usually takes a few days to be productive with.
Can you describe how many shots you did and which kind of shots?
In terms of shot counts it was not that high. We ended up around 70. That number is explained by the attention to details needed in order to approve a shot. Since the movie is based in NYC, every shot portrays a moment in that city that a lot of people know. The New York crowd is part of the landscape for that city, so in order to do it justice we had to make sure to inject enough life in the background.
How many characters are there in the shot? How close are they from the camera?
It really depends on the shots but as high as 400 - 500 and as low as 20 - 30 characters. We got some shots where the crowd's characters are really close to the camera. In such a situation we need to put an extra care on the animation cycles used and make sure to assign these shots to the artist who has a bit more experience in animation.
Could you give a bit of details about the challenges or features used in the shots?
As I said, I was lucky enough to start sooner and was able to work hand to hand with the CG supervisor to isolate the different challenges in this movie. At Mikros animation we've got two main levels: Asset and Shot level, which both had their challenges.
Asset level, our main challenge was to be able to create a line up of crowd characters that fit right into the style of the movie, keeping in mind that we needed to have variation (clothes, accessories, color variation, etc...). We also had to integrate one important element of the movie: the lines. Each character has some drawing lines popping on top of it, or directly integrated on it, which makes them look more like a drawing. They play an essential part in the style of the movie. Thanks to the Golaem fur feature where we can bring curves with skin attached to it, we were able to quickly find a solution to achieve this.
Shot level, the big challenge we had to tackle is the animation stylization, that looks a bit like stop-motion, with some skip frames. We had to come up with rules to make sure we were following the main animation, so the crowd would blend-in. 
On top of that we suggested animation degradation depending on the camera's depth in the scene. As an example, the artist would build a scene to create layers in simulation (ex: foreground, middle ground and background) then set more or less skip frames on these layers depending on the distance to camera and intention in the shot. 
Could you share a few details about the custom pipeline/tools you built around Golaem?
To be sure that we were on track, we had to build some tools around Golaem, some were already existing from previous production and others built for the sole purpose of this production.
One tool that is at the core of our department is called "crowd casting". It is used at shot level, to help the crowd artist with the casting in his/her scene by providing a simple UI with vignettes representing the characters as it will be simulated. You can see it as a friendly GCHA reader because it takes all the information contained in the GCHA files and makes a visual representation of the Datas. It is crucial for our department to use this tool since all of our other tools are dependents to this one.
We also have a tool that is called "crowd recast", which is used when an artist needs to do a new simulation from an existing cache but wants to make sure he/she will keep the casting as well as all the attributes from that cache. I heard that with Golaem 9 a new feature will replace that tool and will be a great addition to the Golaem tools.
As I said one of our main challenges was the animation style, so we built the "GlmCacheStepped" which gave the artists the ability to skip frames either from their cacheProxy nodes or crowdfields as a post-cache process (non destructive). They also can choose the amount of frame they can skip, if they want to also have the locomotion being stepped and if they want to have the facial animation in stepped or linear.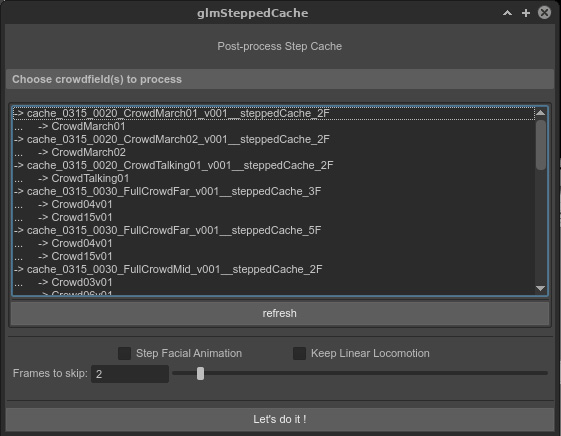 The last pipeline element we had to work on was the processing of the line per characters. As I mentioned previously the line has been created to emphasize the rough drawing style coming from the artistic direction. The modeling department delivered curves for each garment which we had to process and include in our GCHA for each character. This part was automated with the help of our TD at Mikros Animation in order to deliver it in time. Since our render engine is Arnold and our scene assembly software for lighting is Katana we had to figure out a way to have the control of the line width depending on the camera depth. We ended up using Arnold operator for each character simulated and then let the lighting artist choose the final width they want using  a custom katana node's (macro).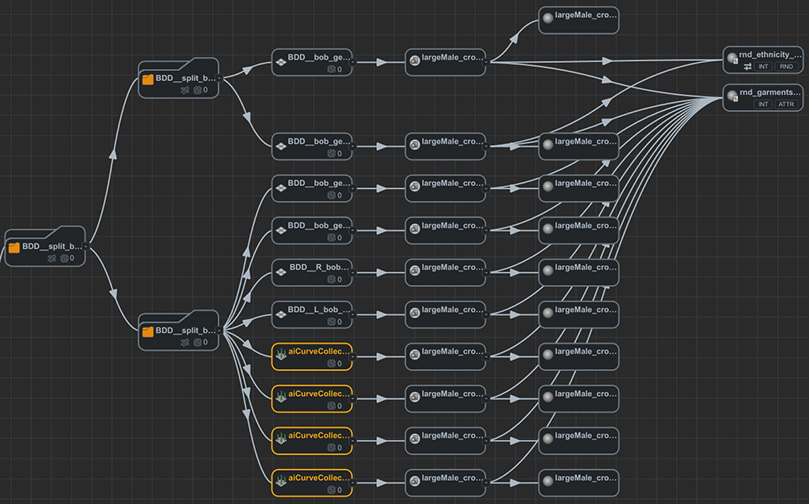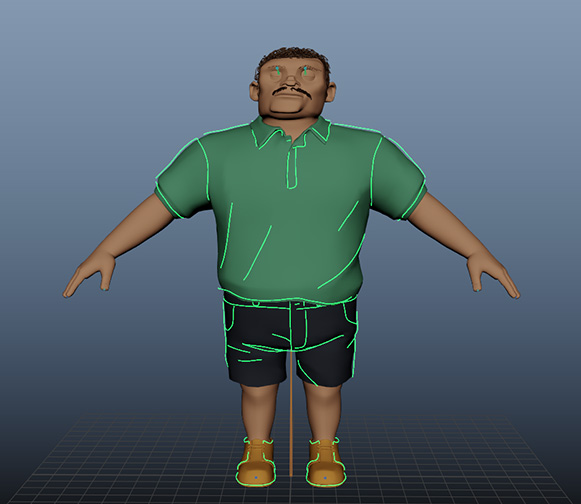 How did the Layout tool help you make the shots faster?
The Golaem layout tool was massively used on this production and gave us the opportunity to stay on schedule while giving the artists enough flexibility so they could find their own way of working.
The Layout Tool is at the core of our workflow. To be sure we are as productive as possible we tend to work with caches at the sequence level which means that we are intensively using the layout tools in order to manipulate cache at the shot level. It is also a tool that helps us to fix any issue coming from either the simulation, animation cycle, sliding foot, last minute change, etc...

Is there a part of the project you are most proud of?
I think foremost in general I would say the team, they did an incredible job adjusting to the style of the movie and fast pace of the production.
I think compared to previous production, we were able to move the crowd really close to the camera without losing details. Also being able to integrate inside Golaem all the different challenges mentioned previously with the short amount of time we had. 
And last but not least, the client's approval, since we had really good feedback from Nickelodeon.
Anything else you would like to add?
I did not talk too much about it but we were responsible for the asset creation part. I am really proud that the client was confident enough to give us the opportunity to deliver the lineup for the crowd characters. It took us a period of 3 months to be able to complete that task and was also a pretty intense challenge.
I would like once again to thank everyone in my team for the work and hope we will see each other soon for new challenges!
Learn more: