Golaem Crowd now offers procedural rendering directly in Maya Render Window
Already compatible in batch mode with the major renderers, Golaem Crowd now offers, with Golaem Crowd 1.5, its lightning fast crowd rendering directly inside the Maya render window, for Mental Ray, V-Ray and Renderman.
Being able to render directly in Maya enables artists to check the results of their crowd scene more easily and quickly. They can now experiment with their shaders configuration or the automatic assets repartition provided by Golaem Crowd and see results in a snap. 
Studios not using the standalone version of their renderer, can now, at last, benefit from an efficient rendering method for crowds.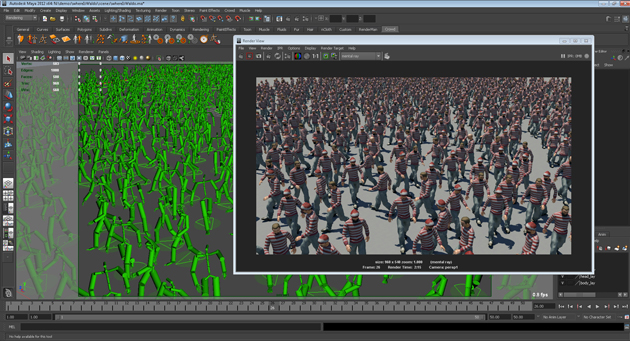 Why is procedural rendering the best method to render crowds?
Procedural Rendering consists in NOT exporting the characters baked geometry (thus wasting significant time, storage space). Instead, only reference geometries, assets repartition and animation poses are exported to a particle cache. The characters geometry is reconstructed at rendering time using Golaem Crowd procedural rendering plugins, available for the major renderers.
Sébastien Eballard, Lead Animator at Mathematic Studio, used Golaem Crowd to populate the Warsaw stadium with thousands of cheering people in the last Euro 2012 Orange commercial. 
He adds "another advantage of procedural rendering is that the particle cache being independent from the scene and its environment, it is really efficient to experiment with the lighting or cameras."
Read the user testimonial in its full extent
here
.
What's next?
Golaem Crowd 1.5 is the latest version of the 1.x family. Golaem will launch Golaem Crowd 2.0 at Siggraph 2012 Exhibition in Los Angeles, 7-9 August. This new version includes tons of new features as well as up to 15x simulation performances increase.
For more information about Golaem® Crowd: