Golaem Releases V-Ray Crowd Rendering Plugin for 3ds Max
VRayGolaem for 3ds Max Extends Production-Quality Crowd Rendering to New VFX and Game Studios; Joint Development with Chaos Group
 

Today, Golaem announces VRayGolaem for 3ds Max, a free plug-in that brings V-Ray's production rendering power to a new set of Golaem Crowd users.
Already a fixture of the VFX scene, Golaem Crowd is known for crowd simulations that can exceed 100,000 characters, all while exhibiting high amounts of diversity. Now the same high-quality crowds that VFX and game studios create in Autodesk Maya can be rendered in 3ds Max.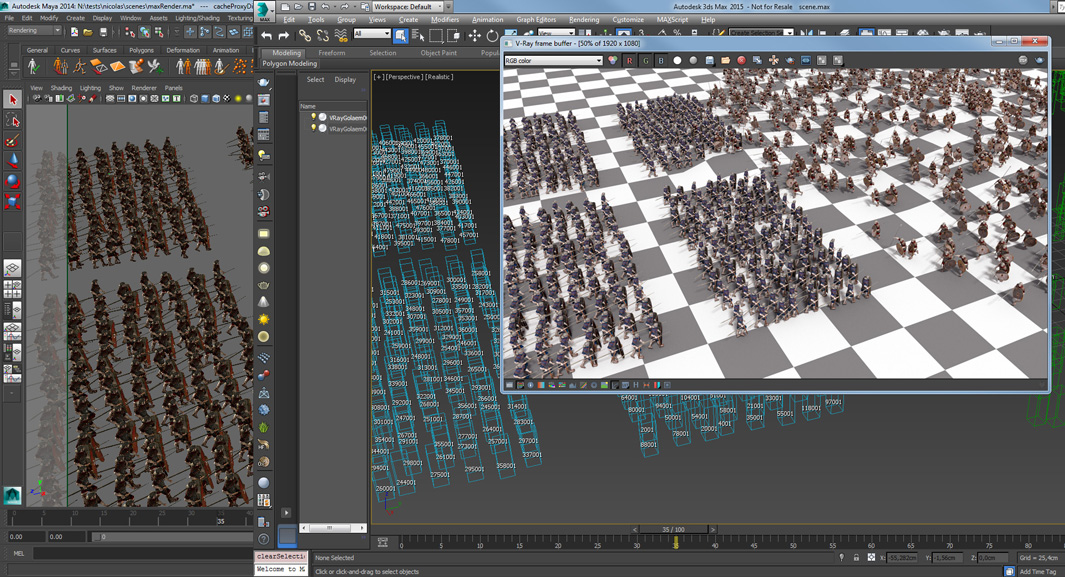 Procedural Rendering
Co-developed with Chaos Group, VRayGolaem for 3ds Max's rendering workflow hinges on a combination of Golaem's proprietary simulation cache technology and V-Ray scene files. Unlike other solutions, character geometry is not exported, but recomputed from simulation cache before being sent to V-Ray. This process makes exporting incredibly fast and reduces the size of all exported files by 99%. All shaders and assets distribution can be tweaked at any time, removing the need for re-caching that can make the creation process slow and inconvenient.
Native V-Ray features
Designed to replicate a native V-Ray workflow, the VRayGolaem for 3ds Max plugin supports all V-Ray 3.0 features such as 3D motion blur, render elements, subdivision and more. All scenes translate as simple V-Ray proxy objects, keeping rendering speeds fast and efficient.
3ds Max Viewport Display
To further simplify layout and lighting steps, VRayGolaem for 3ds Max can display the crowd characters' bounding box in the 3ds Max viewport without slowing it down. Additionally, thanks to a proxy node, artists will be able to control every aspect of how their crowds are rendered without having to go back into Maya.
Nicolas Chaverou, Golaem Crowd Product Manager, comments: "We are thrilled to deliver an efficient way of rendering crowds to 3ds Max users. Artists can now get the most out of V-Ray 3.0 inside their package of choice, without having to rely on heavy workarounds. We have been in touch with several first-class studios using 3ds Max and V-Ray; they are really excited!"
The VRayGolaem for 3ds Max plugin is available now, for free. Download and installation instructions can be found in Golaem's support section: http://vray3ds.mayacrowd.com
Learn more:
About Chaos Group
Chaos Group creates physically-based rendering and simulation software for artists and designers. Founded in 1997, Chaos Group has devoted the last 18 years to helping artists advance the speed and quality of one of their most important tools. Today, Chaos Group's photorealistic rendering software, V-Ray®, has become the rendering engine of choice for many high-profile companies and innovators in the design and visual effects industries.