Milk VFX recreates the Battle of Waterloo for BBC TV drama
Milk VFX recently completed 1000 shots for the BBC's television drama Jonathan Strange & Mr Norrell. One of the VFX highlights was the Battle of Waterloo, including 50,000 soldiers simulated with Golaem Crowd.
 
Building on its experience with Golaem Crowd on  feature films
The Divergent series: Insurgent
and
Brett Ratner's Hercules
, Milk​ VFX created a one minute long shot for the Battle of Waterloo sequence in episode 5, as well as fifteen shots of a giant flock of ravens in episode 6 and 7.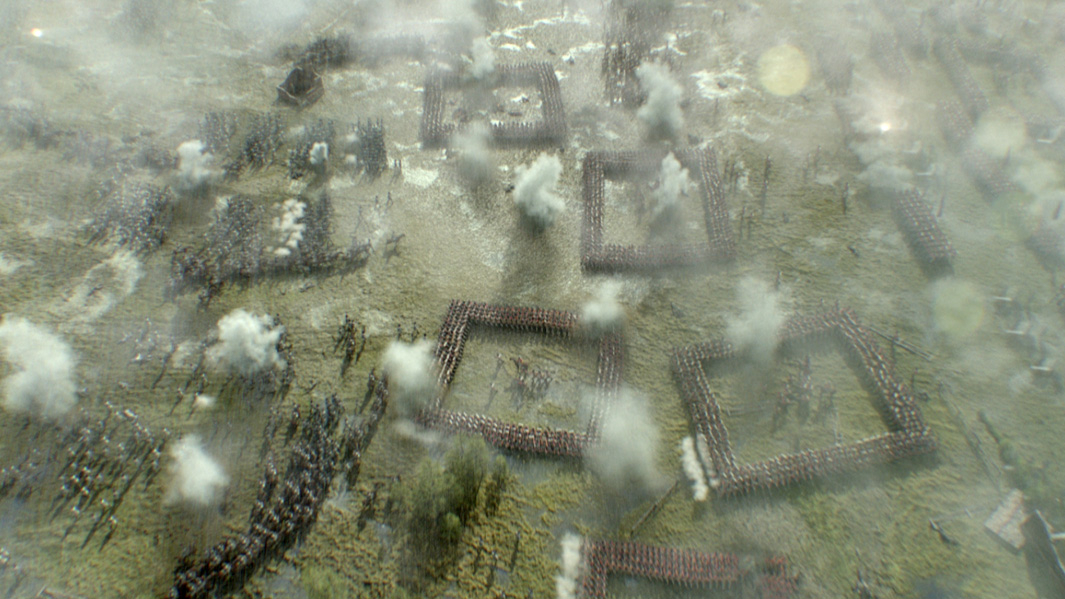 Battle of Waterloo
The opening five minutes of episode 5 transports the audience into the 1815 Battle of Waterloo where Jonathan Strange (Bertie Carvel) directs his otherworldly powers to aid the British war effort. Milk spent three months creating a full range of effects to bring this epic sequence to life for television, including; full 3D aerial shot of the battle with extensive crowd work as well as water and mud effects simulation, modelling and texturing, matte painting, animation and 2D work.
The episode opens to a spectacular sixty-second swooping aerial shot of Waterloo, panning over a smoke-covered battlefield filled with thousands of soldiers and cannon-fire to reveal the full scale of the war. Milk worked closely with director Toby Haynes to design the sequence, pre-visualise the shot and get the camera move absolutely right in order to transition from full 3D to live action.
"Rather than just seeing twenty extras in the scene, with the main battle happening off-camera we wanted to get the full horror of the fighting. Milk has done similar scale shots for films such as "Insurgent" and "Hercules" so this represents a crossover to what can be done in high-end television in 2015." said Will Cohen, Milk's CEO. 
Inspired by battle scenes in
Sergei Bondarchuk's film "Waterloo"
– in which 40,000 extras were used - the Milk team began building the Waterloo sequence, using it as a point of reference for terrain and textures.
The Milk team studied historical reference maps of the battle and Google maps of the area to ensure the terrain geography and formation of the soldiers was historically correct. Once the camera move and length of the shot were locked down, the team worked on the choreography of the shot by blocking all of the soldiers' actions using simplistic rigs.
Four different types of soldier identifiable by their uniforms and two types of soldiers on horseback were created. The team also created a variety of props including cannons, trees, bushes and houses.
All the props were researched to ensure historical accuracy: Each cannon for example, had five soldiers manning it. The production's costume department provided the soldiers' uniform references and Milk photo scanned each one.
In total, Milk created 50,000 digital extras, cannon fire and the crowd fighting and running. Nicolas Hernandez, CG Supervisor on Jonathan Strange and Mr Norrell explains: "We used Golaem Ragdoll for the soldiers being hit by cannonballs. We created a library of canon explosions with projection of a cannon ball; done in Maya and Houdini. We also created glinting water for the puddles and created footprints for every person on the battlefield. Smoke, mud and atmosphere elements were simulated in Houdini and rendered in Maya. The 50,000 extras were rendered using the Golaem Crowd for Arnold procedural."
Hernandez, concludes "The shot was created over a three-month period; with a very small team (around 10 artists, including only one FX TD for crowds). The pipeline was very smooth. Considering the length of the Waterloo shot and the tight deadline it was good to be able to render the full CG shot without any worries."
Ravens Flock
In episode 6 and 7, Milk created 15 shots of a 250 ravens flock. On top of the swarm creation, the raven model being particularly detailed (including more bones than a real raven!), Golaem Crowd was particularly useful for caching the animation and getting an interactive visualisation in Maya. 
As for the Waterloo shot, the crowds work on the ravens shot was done by a single FX TD.
Learn more:
About Milk VFX
Milk
is an independent, boutique visual effects company with studios in London and Cardiff and creates innovative and complex sequences for high-end television and feature films.
Founded by award-winning VFX Supervisors and Producers in June 2013, the team has created visual effects for Jonathan Strange & Mr Norrell, Doctor Who, Sherlock, Thunderbirds Are Go, 24: Live Another Day, David Attenborough's Natural History Museum Alive 3D and Ice Age Giants on television, and for feature films including  The Divergent Series: Insurgent, Ex-Machina, Poltergeist, Brett Ratner's Hercules, Snow White and the Huntsman, Les Miserables, Dredd 3D and 47 Ronin.
Milk has recently completed work on director Ben Wheatley's forthcoming feature film High-Rise (Recorded Picture Company) and the BBC and Hartswood's Sherlock special episode.
Milk has won two BAFTA Television Craft Awards; in 2014 for their work on the BBC's Doctor Who 50th anniversary special: Day of the Doctor and again in 2015 for Doctor Who: Deep Breath.
Milk is located in Fitzrovia and Cardiff Bay and has the capacity for 120 artist seats.