Red Sky Studios creates amazing crowds on a budget with Golaem
Red Sky Studios delivered more than 300 shots, nearly all of them including crowds, for the american sports drama Woodlawn, released theatrically on october 16th 2015.
Red Sky Studios is a fast growing post production house located in the central United States which provides editing, sound mixing and visual effects to a wide range of clients. They run a "virtual office" which contains a core studio building and a network of artists from the United States that are remotely involved in their visual effects projects.
More than 300 shots in 4 different stadiums
Ethan Ledden who assumed the triple role of VFX Supervisor, Lead Crowd and Lighting TD on the movie explains: "We used Golaem to populate 4 stadiums for the film Woodlawn. One stadium is the massive Legion Field located in Birmingham AL which seats 72,000 spectators (193 shots). We also made a CG Sugar Bowl Stadium replica that seats 50,000 spectators (11 shots) and also populated two other small high school stadiums for other scenes in the film (102 shots)."
Red Sky Studios worked on Woodlawn during 6 months, from March to August 2015, with 10 to 15 people involved. The crowd team was composed of a Lead Crowd, 2 crowd TDs creating behaviors and scene setups, and 1 animator for custom animations (only 5 additional were created!). 
Wide angle / no creative limit approach
Although most football films are shot tight to avoid seeing much crowd to save VFX, Woodlawn director decided to do the opposite. Ledden details "The majority of the shots had intense low angle roving Ronin and Steady Cam shots right on the field with the players streaking all over the place. The director wanted the freedom to do pretty much anything he wanted on set so we rarely told him that something wasn't possible. The footage was shot on epic dragons at 6k with Anamorphic Cooke primes and Optimo Zoom lenses. A typical shot was low wide angle looking right into the crowd with players in the foreground."
He adds "Interestingly even though Legion Field can hold 70k people we found that it tended to look unrealistically full if we took the number that high. Above 40k and it looked like it was bursting at the seams from some angles. So for the super wide shots I kept it at about 35k, which seemed to look quite nice and helped keep render times short. For shots that weren't super wide, 28k seemed to work well to fill the stadium decently. For the 11 sugar bowl shots at the end of the film I populated it with 50k people, though we don't ever see them all at once."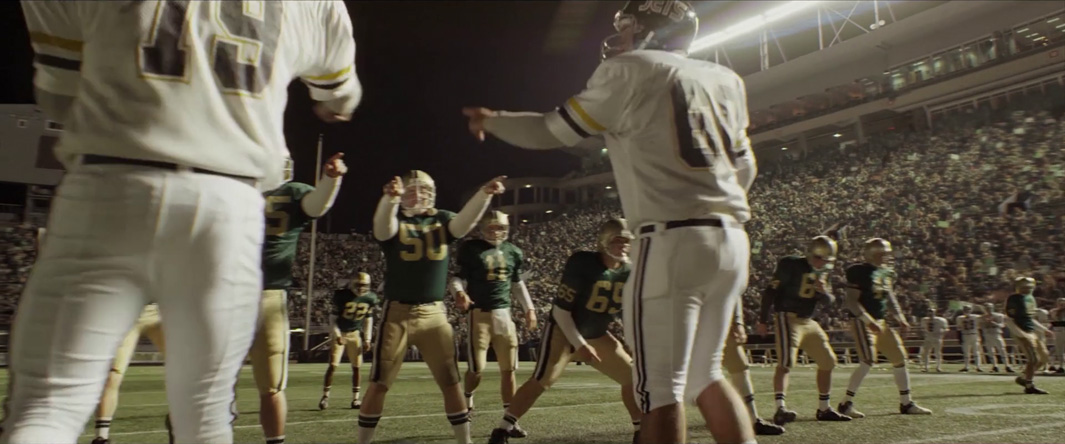 A very powerful tool
When asked about how Golaem facilitate his work, Ethan answers "Where to begin! The ease with which you can use golaem to quickly populate large areas of people is astounding. You can have a basic 25k crowd in front of you cheering in 10 minutes flat. And trust me, nothing compares to that moment when you see thousands of people staring back at you.". 
He continues "Beyond that for customization it took a bit to get the hang of the system but once you understand how things connected it was very easy to create behaviors for the crowd. When I compare it to Massive, it looked like it was going to take a month just to learn and I jumped into Golaem in a couple days."
Ethan was solely responsible to light and render every plate for every shot on Woodlawn, in addition to his other responsibilities VFX supervising the comps. He had to make sure 6-10 plates and their passes were ready every week for the duration of the project. He says "That was pretty intense, but render times were very speedy, which basically made this project possible for us on a relatively small render farm. I think our average frames took about 10-15 minutes to render with all passes."
Ledden kindly adds "Last but not least, Golaem support team was awesome! I had a lot of questions and they answered my emails quickly and effectively. They even added a few features that I suggested would make things easier."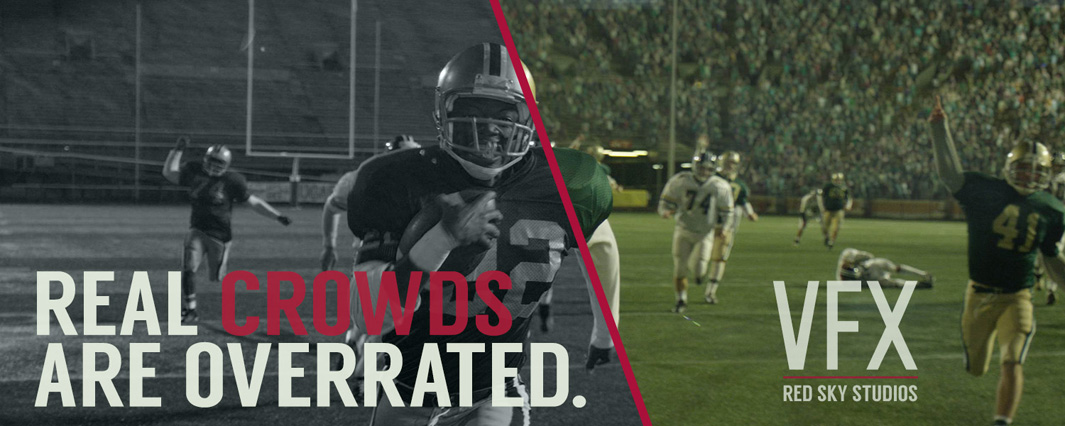 What's next?
Ethan Ledden now feels very confident in Red Sky Studios ability to handle a new project involving crowds: "Every project is a stepping stone and we definitely learned a lot of tricks to working with crowds on this one. Working with difficult fast moving anamorphic footage was not easy, we knew it wouldn't be, but my VFX Production Supervisor Dustin Ledden helped keep us on schedule and within budget. We had a small team of hard working guys and I think with Golaem's help we were able to pull off a lot with a little."
Actually he is even already planning his next projects: "We've started some R&D on some swarms of snakes for a potential project and we definitely have some projects farther out that will be using Golaem again. In the meantime we are totally gung-ho about doing more crowd work after this experience and hope to get the chance to do more soon!"
Learn More: