Story of a Crowd Artist: Kangjoo Kang
Kangjoo Kang followed his passion for crowds since he was at university. Now a crowd artist at eNgine Visual Wave, he has worked on various epic productions in the best Korean studios. He shares his story with us today.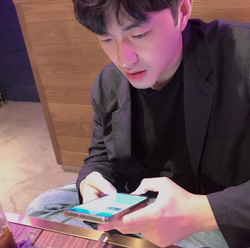 How did you become a crowd artist?
I majored in CG at the university. My brother, who was studying with me, showed me a video: it was "World War Z". I first learned about crowd simulation thanks to the scenes in this movie. It really stroke me, that's how I started studying about crowds.
At that time, I knew nothing about crowds or crowds software. I had a hard time getting to know the crowd software Miarmy, installed it, and used it. I had no access to a render farm as a student, so I worked all night installing Miarmy on all computers in the school lecture room in order to build a render farm.
I made a lot of efforts to be a Crowd artist. The most memorable moment was when I thought: "Ah! I'll be the agent!". So I played a passerby in a movie and had to follow the instructions of the director. This experience helped me understand how a crowd should move. What I felt at that time was that if I controlled the movement of the crowd well, I could make a small number of people look like a very large crowd.
I started working as a Crowd Artist at Dexter Studio. I was lucky because my team leader at that time gave me a lot of time to work on R&D, so I was able to do as much as I wanted. I was also writing my master thesis, comparing three different crowd software so I was able to do a more detailed analysis. What I focused on was the speed of work, ease of modification, and the quality of the simulation itself.
That's when I studied Golaem in details, and discovered the Golaem Layout tool, which I thought was a powerful tool to get the job done in a time a constant updates because it was enabling to perform modifications after simulation.
Could you share a few projects you have worked on?
I am more suited to crowd work that expresses creativity such as jumping and swimming than to human-type crowds. It's a very attractive task to control characters movements and their interactions.
I put that kind of work in the first scene of my showreel. It was a very interesting and memorable project where fish attacked an individual.

After Dexter, I moved to Digital Idea where, among other productions, I worked with Golaem on the movie "Vanguard". On one of the tasks we had to do, the FX team was saturated and the animation team was not able to work with a large number of objects.
I think Golaem's Physics function is one of the really good features so I thought: "What if you use the Physics function to perform rigid simulation, remove the cache, and make additional corrections with the layout tool?". I worked on that hypothesis, and the results were very surprising.
Given your experience in crowds, which trends have you seen emerge over time, and how do you see the future for crowds?
The location of the crowd in a shot keeps evolving: the crowd used to be behind main characters and play an auxiliary role, however now it is getting closer to the main character.
I think one of the reasons is because higher quality animation sources are available. Crowd software are also getting lighter and lighter and their simulations can be exported to a variety of platforms, including Unity, Unreal Engine, and Houdini.
I think that if crowd simulation has only been used in the past and present to make movies, it will be widely used in the future in the game industry and in research that many others need. :)
How did the Covid crisis affect film production and the way you are going to work with crowds?
The Covid situation seems to have made the role of crowds more important.
It seems that there will be more opportunities to add CG crowds to a scene because now we cannot have many people on set.
I hope that Covid disappears soon, but it has become an ironic situation in which there are more opportunities for crowd work.
Would you recommend CG artists to get in crowds? How? Which skills should they develop?
Of course! It provides artists with work efficiency and includes workflow in many domains, including animation, FX, Simulation, etc.
I am still continuously studying various fields: animation, motion capture, and script... A Crowd TDs should know almost every part of 3D.
If you want to gain a general experience, I think a good way to do it is to work on Crowd Simulation.
One thing I felet while writing my bachelor's thesis on Crowd Simulation was that I felt the program was not so important, and the most important thing was my own feelings. If the picture I want to express is clear, then I can use any program for expressing the picture.
So when I recommend Crowds, I suggest you analyze how the crowd works and think about how it works, rather than how you use the program!
Would you have some advice for people wanting to create a demoreel in order to be hired as crowd td?
Crowd TD demoreels should not be just large numbers and huge shots, but also high-quality work on crowd movements and interactions.
I think it increases the probability of employment.
Indeed, recently the trend of crowd work has been to continuously come closer and closer to the camera, and even a small number of characters can be handled to the crowd department. I think detailed expression is the most important even if the number is relatively small.
Anything else you would like to share?
My motto in crowd work is 'Continuous Hypothesis and Proof'. Crowd TDs constantly form hypotheses, prove them, and work on them.
I think Golaem was the best way to realize my idea. My dream is not to be satisfied with my current position, but to work harder and become a Crowd TD model for many people. I hope we can share a lot of information and enjoy working on crowds.