Motion Clip
A Motion Clip is a node containing a motion file (.gmo) which can be played in a Motion Behavior or a Locomotion Behavior. The Motion Clip provides information about the contained motion file (duration, framerate, velocity...) and tools to edit it in a non-destructive way.
Creation
CrowdMenu: Crowd Behaviors / Motion Clip Nodes
MEL command:

glmMotionClipCmd;
Notice that most of the time it is useless to create a Motion Clip manually as both the Motion Behavior and the Locomotion Behavior provide an interface to handle Motion Clips.
Preview
A Motion Clip can be previewed in the Motion Clip Preview tool.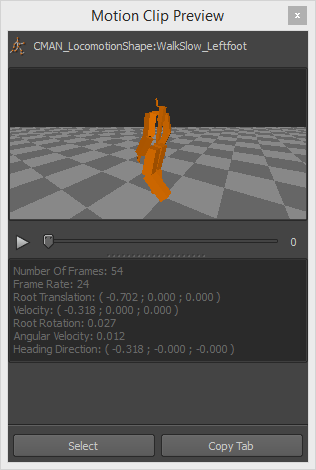 Configuration
Motion File Attributes
| | |
| --- | --- |
| Motion Clip Id | Unique id of the Motion Clip |
| Motion File | Motion file (.gmo) to play and/or edit |
| Force Flat Ground | This attribute tells Golaem that the animation was done on a flat ground, and allows the engine to do some optimizations knowing that. Disable this for animations that are going up or down (like climbing stairs, ...) |
Notice that the following attributes are not editable and filled only when a motion file is loaded:
| | |
| --- | --- |
| Number Of Frames | Number of frames of the motion file |
| Frame Rate | Framerate of the motion file. Thus, Motion D |