Licensing
In order to run without rendering watermarks (actually parts of meshes removed), a Golaem Lite license is mandatory. It needs to be installed the same way than the Golaem For Maya licenses. Please check http://license.golaem.com/#unreal. It is also possible to use the same Environment Variables to avoid fetching of licenses or PLE Licenses
Once installed, you can check the status of your license by looking at the Unreal Engine Output log, the pop up message displayed when the plugin is loaded or in the Window / Golaem / About Menu: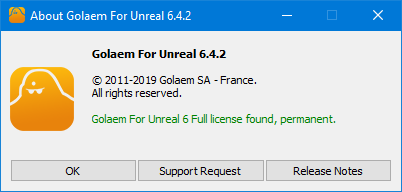 If you run the Golaem for Unreal plugin without a license, it will be in
PLE mode
. Therefore some meshes will be missing on your characters. This is done on purpose, of course with a license, all meshes will be there.