Sticky Notes
A Sticky Notes (notes) is a Behavior Editor utility to add notes and annotations in Behavior Graphs. This node is only graphic.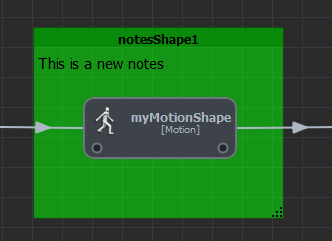 A Sticky Notes around a beMotion in the behavior editor
Creation
 Behavior Editor Tool Bar: 
Then click and drag inside the Behavior Editor viewport to create a Sticky Notes. Sticky Notes are movable and resizable.
Configuration
A Sticky Notes defines the following specific attributes.
Sticky Notes Attributes

Sticky Notes attributes
| | |
| --- | --- |
| Text | The text shown inside the Sticky Notes |
| Text Size | The size of the text |
Color Attributes


Display Attributes of a Sticky Notes
| | |
| --- | --- |
| Color | Color of the Sticky Notes |
| Transparency | Transparency of the Sticky Notes |